Meet the Mermaid Team
Meet the Mermaid Team who are pivotal in the management and running of the Malaysia Mermaid Club which is the first and only Mermaid Centre and Club in Kota Kinabalu. The instructor team is made up of passionate mermaids that are qualified and authorised to teach mermaid programs by the Professional Association of Diving Instructors – PADI. You can learn more about the PADI organisation and why you should choose PADI Mermaid for your mermaid programs by visiting here. The PADI Mermaid Instructors are very passionate about their profession and even in their own free time you will catch them at the local swimming pools training. We are always looking to expand our Malaysia Mermaid Club Instructor Team so do reach out to use to be part of the awesome mermaid team and have a look at our PADI Mermaid Instructor course page for further information on how to become a Mermaid Instructor.
Let's meet the PADI Malaysia Mermaid Club Instructor team.
Angelia the Mermaid
Angelia is the founding mermaid of the Malaysia Mermaid Club and currently shares the club responsibilities with Mermaid Bella. Angelia become a mermaid to help train the local domestic market to become PADI mermaids. Angelia is also a PADI Advanced Open Water Diver and a PADI Freediver. Angelia is a former beauty pageant winner of Ms. Sabah, and a multiple award-winning professional photographer. Now married and with two grown up children, Angelia also owns a made to order bakery that specialises in celebration cakes and Chinese New Year cookies and Mooncakes .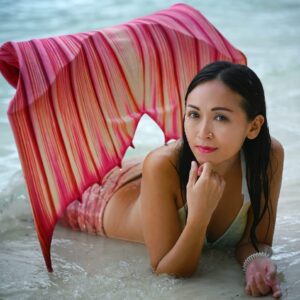 Mermaid Bella
Mermaid Bella has been mermaiding for over two years and helps Angelia the Mermaid with the running of the Malaysia Mermaid Club. Bella is a local Sabahan and got her passion for mermaiding in Semporna at the local islands like Mabul, Kapalai and Sipadan. When Bella is not mermaiding she runs her cake business in Tawau which specialises in celebration cakes.