Special Promotion
Our 2023 Special Promotion for our PADI Mermaid Courses in Kota Kinabalu is a great offer for anyone taking the PADI Mermaid Course that they will get a FREE Mermaid Photo Session included in the PADI Mermaid Course Price.
Which PADI Mermaid Course can I sign up with
We have four different PADI Mermaid Courses which is part of this special promotion:
Why is the PADI Discover Mermaid Course not included in the promotion
This program is just a try program that last for 3 hours, and it is not a PADI Course that you can get certified.
How long is this promotion valid for
This promotion is currently ongoing for 2023. Anyone that books a PADI Mermaid Course whilst this offer is running will be entitled to the FREE Mermaid Photo Session.
What is included in the FREE Mermaid Photo Session
Unlike our Mermaid Photo Shoot which is for non-certified mermaids and only taken on the surface, with this FREE Mermaid Photo Session, your PADI Mermaid Instructor will get some awesome underwater images of you dressed in mermaid. You will get at least 2 underwater images and 3 surface images.
Is the same as the Mermaid Photo Shoot
This is not the same as the Mermaid Photo Shoot that we sell as an individual package. The Mermaid Photo Shoot is aimed towards non-certified mermaids that just wants a private collection of images dressed as a mermaid. This FREE promotion is provided to someone taking a PADI mermaid program.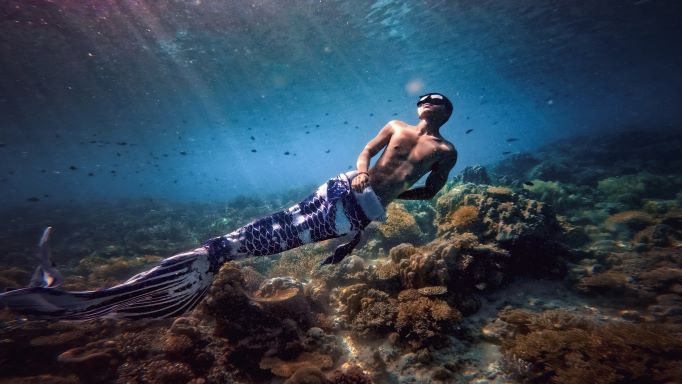 Additional Terms and Conditions
The following Terms and Conditions (hereinafter referred to as "Terms and Conditions") define general rules of the special promotions provided by Malaysia Mermaid Club (MMC).
Special offers provided by MMC may include:
a) special prices. Lowering the prices of all courses, trips, programs, products from a selected category currently offered by MMC during the period of validity of such special offer;
b) special gifts. Where gifts are provided by MMC after purchasing from a selected category such as courses, trips, programs, products of a particular value currently offered by MMC;
Special offers shall be provided by the MMC in accordance with the principles set out in these Terms and Conditions, amended by announcements provided in the "Special Promotion" section on www.malaysiamermaidclub.com website, sent via e-mail, social media chat platforms or published in other forms. Should a particular special offer differ from the rules defined in the Terms and Conditions, its conditions shall be defined in a separate terms and conditions document.
The value of the special promotion cannot be exchanged, refunded, or passed to another person that did not take part in the courses, trips, programs, products.
Having your photo session is your free obligation and MMC has the right to use the images for future marketing purposes but not limited to branding via website and our social media channels.
An announcement of a special promotion shall define in particular its character, conditions for participation, timeframe, scope, and the group of MMC customers the offer is applicable to.
Each special promotion has a timeframe provided in its announcement. MMC reserves the right to cancel any special promotion at any time.
A special promotion can be used at any time during its period of validity unless announced differently.
Participation in special promotions is only valid when taking part in courses, trips, programs, products offered by MMC.
Special promotions cannot be combined with other special promotions or with any other discounts, and especially passing on to other people that did not purchase any courses, trips, programs, or products.
Participation in a special promotion is a confirmation that the participant has read and accepted the announcement of the special promotion and these Terms and Conditions.
MMC reserves the right to alter the provisions of these Terms and Conditions as well as terms and conditions of a particular special promotion for a significant reason, providing that such alterations do not infringe rights acquired by the Participants. Any such alterations of the provisions of these Terms and Conditions shall be included in the form of an Appendix to these Terms and Conditions, which shall be an integral part of these Terms and Conditions.
These Terms and Conditions enter into force on 01 January 2023 and can be viewed on MMC website at: www.malaysiamermaidclub.com